In passport kerfuffle, Taiwan is stickin' it to China
(Read article summary)
Taiwan is fighting back with stickers after China issued passports showing ownership over the entire South China Sea.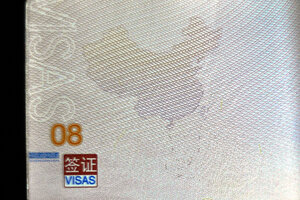 Reuters/File
China hasn't started a military war with Taiwan – as has been feared since the 1940s – but a battle that began on paper last month has met with a fiery pulp-and-ink response that could burn a hole in goodwill between the two once-hostile governments.
Pictures on Beijing's latest passports show a map of China that includes two parts of Taiwan, including its scenic showpiece Sun Moon Lake. The travel documents also depict islets in the South China Sea as China's, despite competing claims by Taiwan and several Southeast Asian countries.
China, already a regional heavyweight, is believed to have issued 5 million of the passports between April and November when they inflamed a regional dispute with neighbors. Now Taiwan is joining the chorus of protest, not by refusing to stamp them as Vietnam has announced it is doing, and not by issuing their own maps as India has done, but with some provocative stickers with a message to China.
China has claimed Taiwan as part of its turf since the 1940s, when Chiang Kai-shek's Nationalists set up a government to rival mainland China's about 100 miles offshore after losing the Chinese civil war to Mao Zedong's Communists. The relationship between China and Taiwan has been up and down for the past few decades: Both formal reunification with the mainland and full Taiwanese independence have been suggested, but a tempering of relations has kept many content with the middle ground status quo, with Taiwan considering itself an effectively independent territory.
---