'Blade Runner' Pistorius, media darling and party-goer, has murder trial postponed
(Read article summary)
The Pistorius trial was delayed until August 19 to allow the prosecution more time to sort evidence. Leading judge calls news coverage 'scandalous.'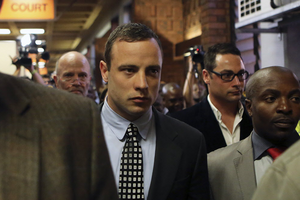 Siphiwe Sibeko/Reuters
Global interest in the murder trial of Olympian Oscar Pistorius shows no sign of abating, after the double-amputee sprinter arrived for a brief court appearance on Tuesday to be greeted by a barrage of journalists. 
Mr. Pistorius shot and killed his model girlfriend Reeva Steenkamp on Valentine's Day, and was subsequently released on $103,000 in bail. 
Those expecting high drama today however were disappointed as Pistorius appeared in court for only about 15 minutes before the case was postponed until Aug. 19 – to allow the prosecutor more time to prepare. 
Could you pass a US citizenship test? Find out.
A spokesperson for the prosecutor told reporters the investigation would be wrapped up by August.
Local newspaper Citypress reported that Thulare warned that the court process should be respected and asked the prosecutor "to look into questions of whether anyone acts or omits to act in such a way that their conduct amounts either to scandalous conduct to court or to outright contempt of court." (Editor's Note: The story was updated with a fuller quote.)
The case has so far been South Africa's version of the OJ Simpson trial, with a fixation for any news about the man known as the "Blade Runner."Â 
In April, rival Sunday papers broke news that Pistorius had been seen "jolling" – "partying" in local slang – in the Johannesburg up-market suburb of Fourways.
The reports said he was seen with bodyguards, drinking with friends and "flirting" with female patrons.
That led to further arguments on social media and radio about Pistorius, Steenkamp and the killing. A group of fans on twitter calling themselves the "Pistorians" have been consistent in their defense of the athlete against what they say are attacks in the media.
Pistorius' pre-trial shenanigans and the killing itself made headlines again last month when Sky News broadcast what they said were images of the bloody bathroom where Steenkamp was shot.
On Tuesday, local journalist Shandukani Mulaudzi said the Pretoria courthouse was "packed" with over a 100 South African and international journalists waiting for the arrival of Pistorius.
However, only a fraction of those journalists could get access to the courtroom due to a lack of space. The rest had to watch proceedings on a large screen set up outside.
---