Good Reads: From raising champions, to Norway's slow TV, to making real friends
(Read article summary)
This week's round-up of Good Reads includes a profile of Olympian Missy Franklin, American sitcoms in Kyrgyzstan, a strange TV phenomenon in Norway, a 'slow friend' backlash to Facebook, and productive early risers.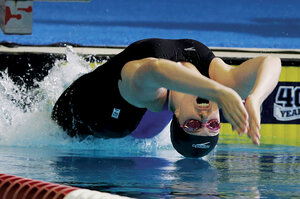 Michael Conroy/AP
A true champion
Missy Franklin isn't your ordinary teenager. Not only does the 18-year-old four-time Olympic medalist get straight A's and spend her free time visiting children's hospitals, she's known to be one of the nicest elite gold medal athletes out there. So how did her parents raise such a well-adjusted champ?
"There is no blueprint," writes ESPN The Magazine's Wayne Drehs. "More often than not, parents are making mistakes without even realizing it. In [the Institute for the Study of Youth Sports at Michigan State's] 2005 study of elite youth tennis players ... roughly 30% of parents were unintentionally acting in a way that troubled their children. It could be as simple as the way a father holds his face in his hands after his son strikes out, or as complex as an up-and-coming tennis star, seeing the money his parents are shelling out for coaching and travel, feeling pressure to deliver on the investment."
But the Franklins' effort to not get caught up in the race to athletic insanity seems to have worked: "If it's one thing my parents have taught me it's to follow my heart," says Ms. Franklin in a related ESPN video.
Is it that simple? "By many standards, Missy is spoiled. Her parents have built their lives around her needs and her schedule," writes Mr. Drehs. "But somehow, Missy hasn't devolved into a self-centered egomaniac. Instead, she's the exact opposite."
What Americans do best
---