Malawi's Banda becomes Africa's third female head of state
(Read article summary)
Vice President Joyce Banda took over as Malawi's president on Saturday. Her first challenge: restoring relations with donor nations to the poverty stricken nation.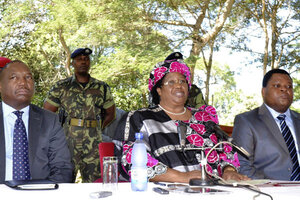 Mabvuto Banda/Reuters
Following the death of Malawian President Bingu wa Mutharika, Africa now has two female heads of state. On Satuday, Malawi's government announced the death of President Mutharika, the former World Bank economist, and the succession of his vice president, Joyce Banda. Sworn in on Saturday evening, Ms. Banda is the third-ever female African head of state, after Ethiopian Empress Zewditu and Liberian President Ellen Johnson Sirleaf.
Ms. Banda's succession was shaky. The announcement of Mutharika's death was delayed nearly two days, and some ministers had claimed that Banda was ineligible for the job, since she left the ruling Democratic Progressive Party after a dispute with Mutharika.
In an announcement from her home in Lilongwe, Banda ordered a 10-day period of mourning for Mutharika.
"I call upon all Malawians to remain calm and to keep the peace during this time of bereavement," Banda said at a press conference, where members of the cabine and the heads of the Army and the police were present.
---