Good Reads: on optimism, rise of a global middle class, and geek revivals
(Read article summary)
It may be easy to feel down in an election year, but between the rise of the global middle class and a geek resurgence, there are reasons for hope.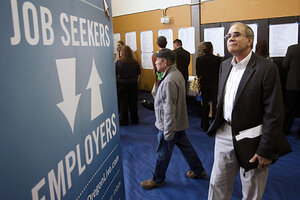 Rick Bowmer/AP/File
The Eeyore Era
Scan the headlines at your local news stand these days, and you'd think we're doomed.
The economy has gone through a "correction," and now may be sent to correctional school for good measure.
Wars are breaking out all over, in many cases spontaneously.
Young people can't seem to find jobs, but they do find time to play "Angry Birds," sometimes during job interviews.
And let's not even talk about the Red Sox.
Yes, we are doomed.
But before someone turns off the lights on this big bright world of ours, let's consider a few things that aren't going so poorly. The Economist helpfully lists a few of these in an article well worth reading, for those waiting to kvetch on your local call-in talk-radio program. Here's a sampling that gives one pause for thought.
While "America is prone to bouts of 'declinism,'" the Economist writes, "anyone who prefers their glass half-full can find grounds for optimism.The first Boeing 787 Dreamliner has just landed in Washington, DC. It will be decades before China can make such a machine. The IMF is predicting average growth of over 2% for 2012 and 2013, not meteoric but not bad for a mature economy. America has a young workforce, with plenty of skilled people knocking at the door to come in. It still has more of the world's best universities than any other country. It is the world's largest producer of natural gas and its biggest food exporter. Amid the gloom, the economy is getting 'Better, Stronger, Faster', argues Daniel Gross, in a book of that name published this week."
---