Good Reads: Israel's Iran debate, Scalia's 'originalism,' and blasphemy in Pakistan
(Read article summary)
This week's long-form good reads include the fire and fear driving Israelis' debate about a strike on Iran, a judicial debate with a surprisingly high profile, and the pernicious use of Pakistan law.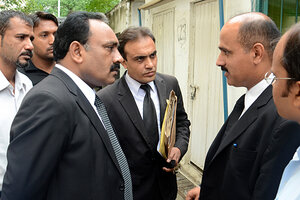 B.K. Bangash/AP
While the US media has been in the throes of the presidential campaign over the past few weeks, in Israel the national debate has been squarely focused on whether to launch a preemptive -- and if necessary, unilateral -- strike on Iran's nuclear facilities. Writing for The Times of Israel website, David Horovitz draws out both sides' arguments, and does so in such a way as to capture the passion with which each faction regards the issue.
On one side are Israeli politicians and insiders who see Iran's progression towards a bomb as an extraordinarily alarming echo of the German progression toward the Holocaust. They warn: Iran is, very literally, an existential threat to Israel, and alternative solutions to dealing with Iran are wearing thin. If the country is to be safe, they say, Israel must hit Iran hard, even in the face of resistance from the US.
But many of those charged with leading Israel's defenses – soldiers, security chiefs, and technocrats – argue as strongly against a strike, warning that it might bring about the very end it is meant to prevent. "To these people, [Prime Minister] Netanyahu and [Defense Minister] Barak are deemed to be capable ... of creating the circumstances in which a nuclear Iran really could become unstoppable. By launching an operation to stop Iran, they fear, Israel may end up liberating the Islamic Republic to cast off all constraints and break out to the bomb."
---