Chilean miners rescue: escape capsule begins rescue of trapped men
The 33 trapped Chilean miners are counting down the minutes to their rescue as the NASA-built escape capsule arrives at the rescue platform 622 meters underground.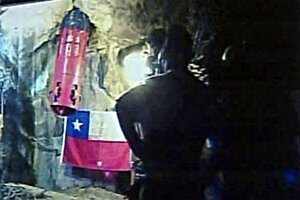 AP
A missile-like escape capsule was lowered into a nearly half-mile tunnel in the Chilean desert Tuesday night to carry 33 miners to fresh air and freedom after 69 days — the longest anyone has ever been trapped underground and survived.
Steam rushed from the hole into the frigid night air — a sign of the humid, sauna-like conditions the men have endured in the gold and copper mine.
Chilean President Sebastian Pinera patted the side of the custom-built capsule proudly as the last act of the mine collapse ordeal approached.
IN PICTURES: Chile mine rescue
"We made a promise to never surrender, and we kept it," Pinera said as he waited to greet the miners, whose endurance and unity captivated the world as Chile meticulously prepared their rescue.
Mining Minister Laurence Golborne said he hoped the first of the miners would still emerge before midnight, a slow process because of the need for methodical testing with a rescue worker inside once all the cables are attached and tested.
A mine rescue expert will be lowered in the capsule and raised again to test it, and then that rescuer and a navy special forces paramedic will be lowered to the men to prepare them for the trip. Only then can the first miner be pulled to safety. It is expected to take as many as 36 hours for the last miner to be rescued.
Families and reporters huddled around TVs and bonfires as the preliminary rescue order was announced. Florencio Avalos, the 31-year-old second-in-command of the miners, was to be the first miner out.
---