Al-Qaida statement praises bin Laden, promises more 'evil'
Al-Qaida statement: al-Qaida released a statement that is believed to be authentic in which they call Osama bin Laden a good man, request his body, and cast doubt on some conspiracies.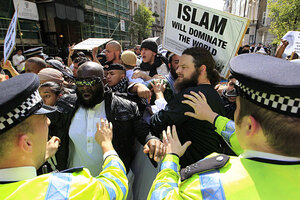 Sang Tan/AP
Al-Qaida has vowed to keep fighting the United States and avenge the death of Osama bin Laden, which it acknowledged for the first time Friday in an Internet statement apparently designed to convince followers that it will remain vigorous and intact even after its founder's demise.
Al-Qaida's plots are usually large-scale and involve planning over months or even years. But Western intelligence officials say they are seeing increased chatter about cheap, small-scale attacks — perhaps by individuals or small extremist groups inspired to take revenge for the killing.
"USA, you will pay!" chanted more than 100 participants in a pro-bin Laden protest outside the U.S. Embassy in London on Friday.
A Western intelligence official said no concrete threat has emerged so far that authorities considered credible. "There have been mentions of shootings, bombings and random violence, though it is not surprising, given bin Laden's death," the official said, speaking on condition of anonymity.
Authorities in the U.S. and Europe chose not to elevate threat levels.
Interpol has asked law enforcement agencies in 188 countries to be on alert for retaliatory attacks. Communities have been warned to report anything suspicious. Embassies and some American businesses have added new security measures.
---