Christchurch, New Zealand, rocked by series of earthquakes, but no casualties
A 5.8-magnitude earthquake, followed by several strong aftershocks, hit Christchurch, New Zealand, on Friday, just 10 months after almost 200 people died from a major quake in the city.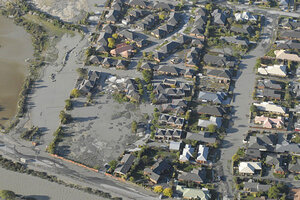 Geoff Sloan/New Zealand Herald/AP
A series of strong earthquakes hit the New Zealand city of Christchurch on Friday, sending goods toppling from shelves, causing rockfalls and driving terrified residents from buildings 10 months after a quake killed almost 200 people in the city.
Christchurch police said there were no reports of casualties or widespread damage, although one person had been reported hurt at a shopping mall and taken to hospital.
An initial 5.8-magnitude earthquake was centered 12 miles northeast of the city at a very shallow depth of 5 miles, according to New Zealand's civil defense. It was followed by a series of strong aftershocks, one of a 5.3 magnitude but no tsunami warning was issued.
The tremors struck as shoppers thronged malls in the lead-up to Christmas and prompted many residents to flee the city, clogging roads.
"It was incredibly violent," one caller told Radio New Zealand.
"All the water in my birdbath slopped out and I could hear everything falling over inside. When I walked inside, the cat streaked out the door, ornaments were all over the floor, contents of the pantry were lying on the floor, a little bit of smashed glass and picture frames lying over."
Christchurch, the largest city in New Zealand's South Island, is still recovering from a quake measuring 6.3 which killed 182 people in February and caused up to $20 billion (New Zealand; US$15.5 billion) in damage. A strong but less damaging quake struck Christchurch in September last year.
---