Murder at Queen Elizabeth's country estate in England?
Call Sherlock Holmes? A woman's body was found on the rural estate where Queen Elizabeth II and the British royal family celebrated New Year's eve.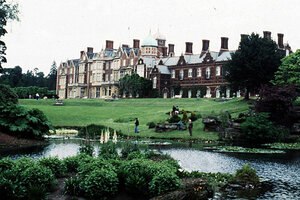 (AP Photo/PA, File)
It's a case that Sherlock Holmes would have loved to unravel: British police say a woman's body has been found at the vast rural estate where Queen Elizabeth II and her family celebrated New Year's.
Police are treating the case as a murder, and an autopsy was being conducted Tuesday to learn more about the cause of death and the identity of the victim.
The body was found on New Year's Day three miles (5 kilometers) from the elegant country home of Sandringham in eastern England, where the royals held a New Year's Day celebration in rural splendor.
RECOMMENDED: Top seven detective novels set abroad
Parts of the nearly 20,000-acre (8,000-hectare) estate are open to the public, and the body was found in a forest at Anmer, a hamlet of several dozen people 115 miles (185 kilometers) northeast of London on the estate grounds.
Most of the senior royals were at the sprawling Sandringham estate, where the queen loves to celebrate Christmas with her husband, children and grandchildren. The royals New Year's celebration marked a milestone in the recovery of Prince Philip, the queen's 90-year-old husband, who made his first public appearance since recovering from a heart procedure over the Christmas holiday.
So far, there are more questions than answers about the strange discovery, which has shaken the normally quiet region where the queen and her family typically enjoy riding horses and holding shooting parties.
---