China tightens restrictions on Chen Guangcheng's family
As blind activist Chen Guangcheng waits in a Beijing hospital for travel documents to leave for the US with his family, his extended family is coming under pressure over his escape, he said.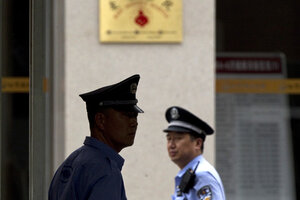 Alexander F. Yuan/AP
Authorities in the hometown of blind activist Chen Guangcheng have notched up restrictions on members of his extended family while he awaits permission in Beijing to travel abroad under an agreement between China and the US.
Chen Guangcheng's brother and sister-in-law have been placed under house arrest, his nephew is in police detention, and another half-dozen relatives face some form of restriction on their movements in their village in Shandong province, according to Chen, his lawyers and a rights group.
Chen's flight from abusive house arrest in Shandong and into the protection of US diplomats — which led to an agreement with Beijing to let him study in the US accompanied by his wife and children — has exposed the impunity of local officials and embarrassed the central government.
"I feel that Shandong's retribution against me has already started," Chen said in an interview Thursday from a hospital where he is being treated for injuries suffered during his dramatic escape from his guarded farm house.
His nephew, Chen Kegui, is believed to have been detained in relation to a clash he had with officials who reportedly broke into his home after discovering that the activist had escaped in late April.
The nephew's arrest notification allegedly says he is suspected of attempted "intentional homicide," said Liu Weiguo, a lawyer who volunteered to defend Kegui but has yet to see the notification document himself. Liu said at least one local communist party official was injured in the April 26 fight but no one died.
Local Shandong police in the city and county overseeing Chen's village said they weren't aware of the situation with Chen's family. Local communist party publicity officials could not be reached.
---