Most of Syria out of Assad's control, says ex-PM
In his first public speech since his defection last week, Syria's former prime minister Riyad Farid Hijab said Assad's 'regime is on the verge of collapse.' In the meantime, the United Nations is attempts to provide aid to the people of Syria and Iran provides training to some of Assad's troops.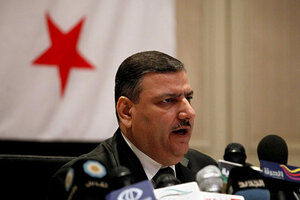 Mohammad Hannon/AP
The regime of President Bashar Assad is near collapse and now controls only 30 percent of Syria, the country's former prime minister said Tuesday in his first comments since defecting to Jordan last week.
The comments by Riyad Farid Hijab, the highest-ranking official to defect from the Syrian government, came as the bloodshed inside the country continued. Activists said at least 60 people were killed Tuesday, including at least six children.
"The regime is on the verge of collapse morally, financially and economically in addition to cracks in the military," Hijab told a news conference televised from the Jordanian capital, Amman.
He urged other political and military leaders to defect and join the rebel side and called on the exiled opposition to unite.
But in making his comments, Hijab sought to assure those in the opposition that he was not seeking a political position now or in a free Syria, which he predicted would come soon. "I consider myself a soldier in the path of righteousness," he said.
Opposition members and rebel leaders who first came out calling for Assad's ouster 17 months ago have both welcomed and regarded with some suspicion some of the former higher-ranking political and military officials who have joined the cause only recently.
Assad's regime has been battling the uprising with both military forces and pro-government militias. In Washington, Defense Secretary Leon Panetta on Tuesday said that Iran is providing military training to one of the militias, part of a growing effort by Tehran to prevent armed rebels from driving an ally from power.
---