South Korea's president-elect promises aid to North
South Korea's incoming president, Park Geun-hye, says she will reach out to the North and offer humanitarian aid. Some analysts doubt her sincerity and expect her to take a more moderate approach.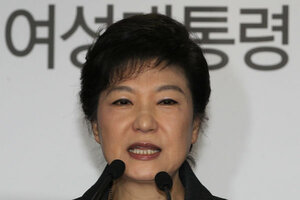 AP Photo/Ahn Young-joon
Park Geun-hye promises to reach out to North Korea with more humanitarian aid and deeper engagement after she moves into South Korea's presidential Blue House on Feb. 25. Pyongyang, however, may be in no mood to talk anytime soon.
Park's declarations ahead of Wednesday's election that she will soften five years of hard-line policy rang true with voters, even as they rejected her opponent's calls for a more aggressive pursuit of reconciliation with the North.
A skeptical North Korea may quickly test the sincerity of Park's offer to engage — possibly even before she takes office. She is both a leading member of the conservative ruling party and the daughter of the late anti-communist dictator Park Chung-hee, and Pyongyang has repeatedly called her dialogue offers "tricks." North Korean media didn't mention Park's name in a short dispatch noting her party's victory.
Outgoing President Lee Myung-bak's tough approach on North Korea — including his demand that engagement be accompanied by nuclear disarmament progress — has been deemed a failure by many South Koreans. During his five years in office, North Korea has conducted nuclear and rocket tests — including a rocket launch last week — and it was blamed for two incidents that left 50 South Koreans dead in 2010.
---