After the Haitian earthquake: saving priceless murals, artifacts, and other treasures
Cori Wegener is trying to save Haiti's treasures in a kind of Doctors Without Borders effort to preserve its "soul."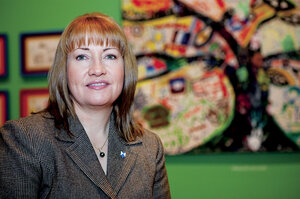 Michael Bonfigli/Special to The Christian Science Monitor
Cori Wegener, an associate curator at the Minneapolis Institute of Arts, talks of missions to rescue works of art and other "cultural property" in the wake of disasters as if they were warfare.
She speaks of SWAT teams and military missions and emergency situations. And she knows what she is talking about.
Ms. Wegener, a combat veteran, has literally written the book on rescuing cultural treasures: a US Army training manual with the daunting title "GTA 41-01-002: Arts, Monuments, and Archives Guide." It refers to a country's churches, mosques, temples, museums, works of art, and archives as "its soul, its memory, and its meaning."
Yet too often, she says, outright plunder has followed an armed conflict or natural catastrophe such as an earthquake, leaving a country in danger of losing the "tangible representation of significant human events, beliefs, and values."
Now Wegener, a retired Army major, is doing something about it.
Her thinking on the issue, she says, is being shaped by her work as the international project coordinator of the Smithsonian Institution's Haiti Cultural Recovery Project – created largely at her initiative following the earthquake that struck that Caribbean island last year.
---