Ned Eames uses tennis to boost inner-city reading skills and graduation rates
Tennis helped Ned Eames thrive during his childhood – now he uses it to help Boston kids improve their reading skills and stay in school.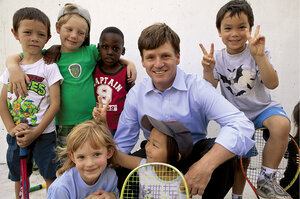 Melanie Stetson Freeman/Staff
At Umana Middle School Academy in East Boston, it's easy to pick out some of the best students: They're the ones with tennis rackets.
The middle school is one of five in the city that has invited Tenacity, a nonprofit organization that teaches tennis and literacy, into its doors during or after school.
Kids in the program meet three or four times a week for three-hour sessions of playing tennis and studying English and language arts. "They're definitely our strongest academic students," says Umana principal Alexandra Montes McNeil of the approximately 75 students at her school who participate.
Ned Eames, Tenacity's founder and president, started the program 12 years ago to reach students who were in danger of dropping out of high school.
About 60 percent of Boston's high school students graduate. But the number for students in the Tenacity program is considerably higher: About 95 percent of them graduate. And Tenacity doesn't cherry-pick the top students to make its graduation rate look good.
"We do not cream the crop," Mr. Eames says. "These are the kids that are floundering."
Tenacity sessions, held both during the summer and school year, include equal parts tennis and academics, with tennis as a big lure and unifying activity. About 5,000 kids participate in its summer programs at 30 sites, and about 200 students at five middle schools take part during the school year.
Tenacity also offers less formal academic and personal support to another 200 high school students. All of its programs are free to students.
Summer sessions look much like a typical summer sports camp, with counselors leading activities for groups of yelling, laughing, running kids. But this camp has mandatory reading time, too.
---