'Super-librarian' figures out secret to getting kids to read
Librarian Cynthia Dobrez uses e-readers, bibliotherapy, and her own intuition in her middle school library in Michigan.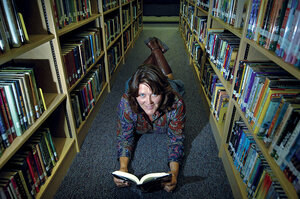 Katy Batdorff/Special to the Christian Science Monitor
When Angela Craft was a teen, she fell in love with a book, "Empress of the World," by Sara Ryan.
Her middle-school librarian, Cynthia Dobrez, told Angela that, if she could get herself to the American Library Association (ALA) meeting in Atlanta, Ms. Dobrez would arrange for her to meet Ms. Ryan.
One road trip with Mom later, Angela was having coffee with her idol. "I actually almost fainted," says Ms. Craft, now a young-adult book blogger in New York.
Related: Report: Reading skills in early grades are crucial to success
That's how Dobrez does her job. She's about as far from an old-fashioned Marian the Librarian as a Kindle e-reader is from a parchment scroll.
"I love working with [early teens] – I just love it. The kids are at such a vulnerable time. The middle-school years can be so traumatic," says Dobrez, whose license plate is "R3AD." She loves to "connect them with a book that helps make those years a little bit easier."
A handbag in her office features the cover of a Three Dog Night album, "It's Not Easy." That sums up the state of affairs for school librarians across the United States.
---