Gary White's goal: bring clean water to a billion people who lack it
Gary White cofounded Water.org with actor Matt Damon. His success secret: Making sure local people are deeply involved.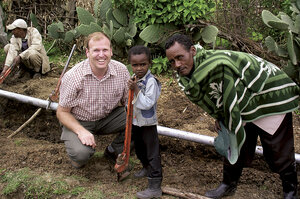 Dawnet Beverley/Water.org
Nearly 1 billion people today lack access to safe drinking water. About 2.5 billion go without basic sanitation like a decent toilet, according to United Nations statistics.
If Gary White realizes his vision, everyone in the world will have safe water and sanitation.
It's a big, audacious goal. But those who speak with Mr. White, the executive director of Water.org, the nonprofit organization he cofounded in 2009 with actor Matt Damon, find it's not long before his can-do energy and thoughtful demeanor persuade them that he just might pull it off.
White has spent 20 years working in the trenches of what he calls "the water world" – the network of charities, relief groups, foundations, municipalities, and nongovernmental organizations (NGOs) trying to solve the world's water problems.
His innovative, counterintuitive approach already has brought safe water to about 1 million people in eight countries in Latin America, Asia, and Africa. It has also garnered multimillion-dollar donations from major foundations and made White a star, not just in the water world but in the larger sphere of global philanthropy.
"Gary comes to the problem of water access with the rigor and thoroughness of a brilliant engineer," says Claire Lyons, global grant portfolio manager for the PepsiCo Foundation, the philanthropic arm of the food and beverage giant.
"Gary is not out there to be a star," Ms. Lyons says. "That is not what drives him. But he does understand, with savvy, that what he has been able to achieve has great value. And now he is able to leverage that experience incrementally. And the humility that comes with just who he is as a human being is a selling point to others."
---