Johanna Crawford helps survivors of domestic abuse – and urges them to do the same
Johanna Crawford founded Web of Benefit to help women escape domestic violence and build new lives.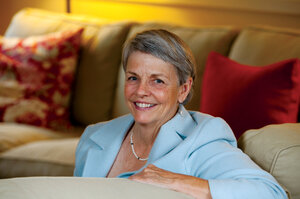 Melanie Stetson Freeman/Staff
Johanna Crawford says the night she witnessed her father almost kill her mother is only one of two things that motivates her each day to help survivors of domestic violence.
The second came four decades later when she handed a woman at an emergency shelter two $20 bills from her wallet – and gave the woman hope.
"As I was driving home [that day] … I thought, 'I can do this. I can change someone's life for $40.' And then I thought, 'I have to do this,' " Ms. Crawford says.
Within one year, she went from being a volunteer at a shelter for abused women to establishing her own nonprofit organization, Web of Benefit, designed to empower survivors of domestic violence with financial aid using a unique mentoring approach.
By awarding small grants for such things as housing, education, and transportation, Web of Benefit offers a crucial leg up to women trying to push past the fear of abuse. Perhaps more important, Crawford asks that those she helps "dream big."
Her grant applications include a "Dream Proposal" with three questions: What is your biggest dream? What are the steps and goals to reach your dream? What is the estimated cost of the first step of your dream?
It may sound simple, but for women trying to navigate the emotional and physical pain surrounding domestic violence, imagining a better life can seem impossible.
"Most of the women who are survivors have kind of a turned-off light; they don't dream or visualize what their life could be," says Jessica Estrada, who runs a financial literacy program for Family Rescue in Chicago and collaborates with Web of Benefit. "When they are in an abusive relationship, they are dominated by the abuser's lifestyle. They are not living the life they wanted to be living."
---