They opened their home – and hearts – to South Africa's abandoned babies
Christo and Lanie de Klerk have founded the Baby Moses sanctuary for abandoned babies in South Africa.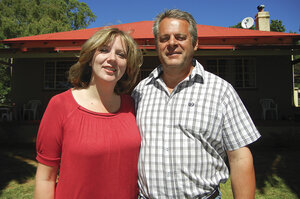 Hamilton Wende
Johannesburg, South Africa
If you drive down Merle Street, an unremarkable tree-lined avenue in middle-class Roodepoort, one of the dormitory towns surrounding Johannesburg, you will glimpse a way of life created decades ago. In its neat suburban houses and gleaming lawns you will see the benefits that were reserved for whites under apartheid.
Not all that much has changed. Most of the inhabitants are still white and enjoy a lifestyle that millions of black South Africans cannot even dream of experiencing.
However, tucked away here is the Baby Moses Baby Sanctuary for abandoned infants. What's happening inside this modest ranch-style home is emblematic of the way many South Africans are changing how they react to race and long-entrenched privilege.
The overwhelming majority of the children who are being cared for here are black, while its founders, Christo and Lanie de Klerk, are white Afrikaners.
"We started it in 2003," Lanie explains, "after we both had a religious experience. We felt a pulling at our heartstrings to make a place for abandoned babies.
"We knew when we started that it would be mostly black children. We felt we had to give back. We wanted to pay some penance for what had happened under apartheid" – the strict separation of the races under white minority rule that ended two decades ago.
Christo worked in a bank, and Lanie was staying at home looking after their three biological children and the child they have adopted.
Soon, however, the need for Christo's services at Baby Moses became too great: Now he works from home and has joined Lanie in running the sanctuary.
---