Son of an anti-Nazi hero uses family estate to nurture democracy and rule of law
Helmuth Caspar von Moltke, son of an anti-Nazi hero, uses the family estate in Poland to teach teenagers about democracy and protecting human rights.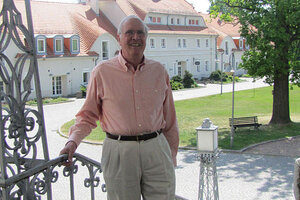 Isabelle De Pommereau
Striding down from the tiny "emperor station" near Schweidnitz in Lower Silesia (now in Poland, at one time Germany), Helmuth Caspar von Moltke arrives at Kreisau, a sprawling estate that is his birthplace and childhood home.
As he walks along a dirt path, this tall, elegant man feels the weight of responsibility to see to it that Kreisau, laden with personal memories and important history, be used to promote a peaceful, united Europe. It was this vision for which his father died: It was here that his father and a group of his friends met secretly to reject the Nazis and plot a democratic Germany as part of a united Europe without Adolf Hitler.
Those were dangerous, treasonous ideas in 1930s and '40s Germany. They led to prison and execution for most of those involved in the "Kreisau Circle."
In 1866, German Chancellor Otto von Bismarck had helped Mr. Moltke's great-great uncle, Field Marshal Count Bernhard von Moltke, acquire the estate, a thank-you for help in winning a war against Austria.
As children, Caspar and his brother, Konrad, would wait eagerly for the steam engine train to puff up to the emperor station. It wasn't until much later that they learned what went on at Kreisau: Their father, Helmuth James von Moltke, had gathered his friends there to plan for a new Germany without the "Führer."
After the Allied victory in 1945, Germans were driven out of Silesia; and Moltke's home, renamed Krzyzowa and now part of Poland, fell into ruin. But the Kreisau story did not end. It only slept during the years when his mother, Freya, took her two young sons first to Switzerland, then to South Africa and eventually Britain.
---