Bruce Lasky trains young lawyers in Asia to defend the poor and powerless
The New York City native quietly champions legal reforms in Southeast Asia, a region where the rule of law is often weak and governments are criticized for their human rights records.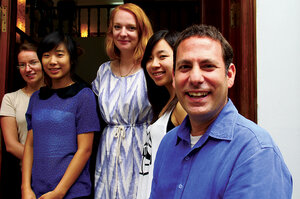 Mike Ives
Bruce Lasky distinctly remembers the advice he once received from a colleague in a Florida public defender's office. "We're lawyers," the colleague said. "Not social workers."
But Mr. Lasky, then fresh out of law school, didn't agree. He saw the legal system as a tool for empowering the disadvantaged. In Florida he spent nine years representing low-income adults and juveniles charged with offenses ranging from drug possession to theft and murder.
And for the past 13 years, the New York City native has quietly championed legal reform in Southeast Asia, a region where poverty is widespread, the rule of law is often weak, and governments are criticized for alleged violations of human rights.
Bridges Across Borders Southeast Asia Community Legal Education Initiative (BABSEA CLE), a nonprofit Lasky cofounded about a decade ago, trains young lawyers across the Asia-Pacific region to defend the powerless, even though law schools here typically place little emphasis on helping vulnerable groups.
Lasky's organization has worked with more than 40 universities in nine Asia-Pacific countries to develop programs that teach lawyers to understand the need to provide legal services to at-risk communities – a process lawyers call "clinical legal education," or CLE.
Le Thi Chau, deputy head of the law department at Vietnam Trade Union University in Hanoi, says students in her law program all receive CLE thanks to the university's links to BABSEA CLE and the United Nations Development Program. The law program has not received any support from the Vietnamese government, she adds, but it has improved the university's law curriculum and led directly to young lawyers doing community outreach in three provinces.
---