British prime minister David Cameron urges citizens to volunteer – just like him
(Read article summary)
Prime Minister Cameron volunteers by teaching job-interview skills. A report this week from the British government seeks new ways to promote private giving of time and money to charitable causes.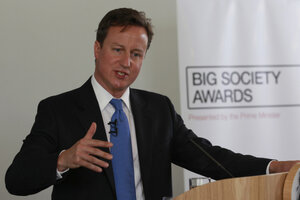 0525-DavidCameron
British Prime Minister David Cameron may be known at the moment as Barack Obama's latest new best friend. But on Monday, just before the American president and his wife drew all the news media's attention, Mr. Cameron made a plea for more community service and charitable giving in Britain.
Cameron, it turns out, volunteers his own time for charitable work. He expects cabinet members to do the same. And now he's proposing some ways government can better encourage private efforts to help the disadvantaged.
It's all part of a vision of a "Big Society" that Mr. Cameron, a Conservative, has brought with him to his office. It aims to "recognize that we can all do more to build a bigger, stronger society," he said in a televised interview Monday. "It's not simply encouraging more volunteering, or simply encouraging more philanthropic giving, it's also about trying to give people the ability to do more if they want to."
A government white paper released Monday, called "Giving," sets out a number of ideas on how to encourage private philanthropy. Among them: allowing people to make small donations as they visit their ATM for cash and reducing the inheritance tax to 36 percent for those who leave 10 percent or more of their estate to charity.
---