Critical Exposure: students focus on reforming schools
(Read article summary)
The Critical Exposure program lets student photographers document what is wrong – and right – about their schools.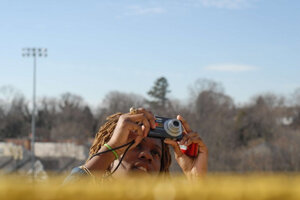 Courtesy of Critical Exposure
The photo shows a wall-mounted clock with chunks of glass missing between one and three o'clock.
"This photo depicts a broken clock in a classroom. It shows how time is lost and how simple things are broken, [and how] a simple thing can affect us in such a big way," the photographer, identified only as Khalid, wrote.
Khalid took the photo as evidence of what needed fixing at his school, Ballou Senior High School. Ballou is in Washington D.C'.s eighth ward, which is known for high rates of crime and poverty. Though Ballou has an accomplished school marching band and much to celebrate, it, like many schools in DC, has suffered from deteriorating facilities.
That an inner-city public school has broken clocks and lockers and, generally, could use extra funding isn't surprising; it's the type of image that often finds its way into discussions about what's wrong with public schools.
It's also not surprising that a local organization, Critical Exposure, is working to remedy what it says are inequalities in the public school system, where poor neighborhoods have underfunded and under-equipped schools.
What is surprising, though, is how the organization, working with students like Khalid, tries to remedy what it calls a systemic problem.
Founded in 2004, Critical Exposure teaches students in disadvantaged schools how to document, with photos, the bad – and the good – of their school experiences. At the same time, the organization advocates changes in education public policy, often relying on the power of the lens.
Adam Levner, the organization's executive director and co-founder, says that Critical Exposure is distinctive for its blend of art and advocacy.
"There are lots of great organization that teach you how to express [yourself] through art. There are lots of great organizations that involve youth in reform efforts. But there are very few programs or initiatives that systematically and intentionally teach students how to use their voices and their stories and their images as concrete tools to secure the kinds of changes they want to see," he said.
---