Green solutions for New York City's overflowing sewers
(Read article summary)
Techniques such as more trees and porous pavement can reduce runoff that fouls the city's waterways.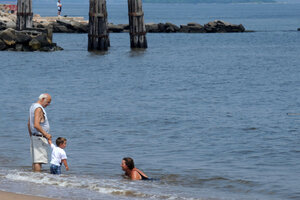 Dennis Van Tine/ABACAUSA.COM/Newscom
In late July, Harlem residents held their noses as millions of gallons of untreated sewage water flowed straight into the Harlem and Hudson Rivers because of a sewage plant fire. On the hottest day of the year, precious beaches and water areas were off limits, too toxic to swim in, as a repair team took shifts working in the heat to fix the plant.
But the crisis was more than just an isolated incident; it was symptomatic of a larger, structural problem in the way New York City – home to 8.5 million people – deals with its residents' liquid waste.
Each year, 27 billion gallons of raw sewage are dumped into the New York City harbor, making sewage, or more specifically, the city's inability to process waste water, the largest source of water pollution in the city. This dumping is caused by combined sewer overflows that occur when the sewer system becomes overloaded by heavy rain on top of normal sewage flows. Overburdened city infrastructure is simply not capable of handing so much water.
The solution to this problem may lie in what is known as "green infrastructure." Green infrastructure, according to the Department of Environmental Protection and PlaNYC, the city's sustainability initiative, includes "advanced tree pits, porous pavements and streets, green and blue roofs." It is essentially anything that is built in to the city's currently existing infrastructure that makes systems, like sewage collection and treatment, run more smoothly.
---