Do urban farms reduce runoff and save water? Seeing Green is finding out
(Read article summary)
The Seeing Green project aims to show the value of urban farms in controlling runoff and reducing the burden of wastewater on cities.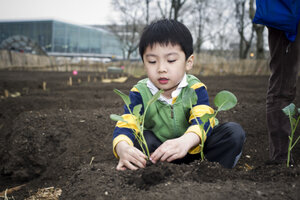 FRANCES M. ROBERTS/Newscom/File
In cities all over the United States, urban agriculture has joined the farmer's market as an accessible, even trendy, way for city dwellers to assert their commitment to living sustainably. But despite the individual benefits from eating healthy, organic produce, it's hard to see – and measure – the social and environmental impact of urban farms.
Rooftop farms may seem like mere Band-Aids in overcrowded cities marked by unequal distribution of healthy food. But two environmental scientists are determined to prove that urban farms have a multifaceted positive effect in a cityscape, and that urban agriculture deserves recognition as a viable means toward creating a more sustainable and equitable urban ecosystem.
Seeing Green is a year-long research project that will measure the stormwater management potential of urban farms. The founders hope the final data can prove that urban farms greatly mitigate escalating waste management problems in cities, giving scientific fodder for policymakers to support the burgeoning urban agriculture movement.
Dowser: Tell me about how you realized that this research was needed.
Tyler Caruso, project co-director: I ran my own sustainable landscaping company in San Francisco for a couple years and did a lot of "gray water" work. Gray water is any water in a house other than your toilet – from your shower, hand faucets, and so on. It's not potable but it can be recycled to water your plants or wash your car. So I moved back east to go do my M.S. at Pratt and started doing more gray water work. It surprised me how much urban agriculture there was in New York City. But I also saw that urban agriculture was happening without a lot of city support; these farmers were just making it happen on their own.
---