Are nonprofit groups dead?
(Read article summary)
No. But they need to get off the 'philanthropic dole' and make other changes, a panel of experts suggest.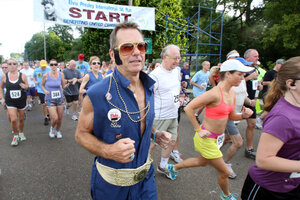 c51/ZUMA Press/Newscom
Is the non-profit dead?
Sure, maybe "dead" is a bit dramatic for the trusty nonprofit organization. But activists doing good inside and outside the box are increasingly wondering: Is this old way of thinking about doing good works still relevant in the tech-savvy, hyper-cyber world of social change we see today?
For starters, it's clear that whatever you call them, nonprofits aren't going anywhere. In 2010, there were 1.6 million nonprofit organizations registered with the Internal Revenue Service. Notwithstanding its size, the nonprofit sector hasn't been averse to the changes that technology bring.
Organizations such as Kiva or Vittana, which facilitate micro-loans for business or college education, connect donors directly with the people to whom they give.
Bulk mail fundraising solicitations are giving way to like "Twestivals" – galas or gimmicks for giving, depending on your perspective – where users of the online micro-blogging site Twitter use the power of their cyber-networks to organize offline fundraising events.
Foundations like Echoing Green or Draper Richards offer grants and training to young change agents they call "social entrepreneuers," a term that's suppose to denote the savvy and efficiency of today's 2.0 charities.
But if doing good is getting more efficient, does the old-fashioned nonprofit have a future?
---