Sports to Share teaches teamwork, fair play, and tolerance
(Read article summary)
Youth sports program in Mexico fights obesity through fun and games.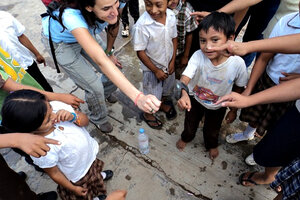 Deport-es para Compartir staff
Large-scale global initiatives can be challenging to interpret on a local level, especially when they involve goals for children and education.
Deport-es para Compartir (Sports to Share) seeks to render the UN Millennium Goals for Mexican schoolchildren through physical activities to build students' capacities for local action. Below, Dowser talks with General Director Dina Buchbinder about how games can translate goals, and about how a larger network for youth programs has inspired her local work.
Dowser: How did your background lead you to developing programs for children?
Ms. Buchbinder: I worked in various camps growing up and always had a passion for children. I studied international relations and realized that I was not interested in an exclusively government position.
---