No job? Make your own. Here are 7 ways to get help.
(Read article summary)
One alternative to looking for a job is to make your own. Here are seven nonprofits who offer tools, training, and ideas to get workers started.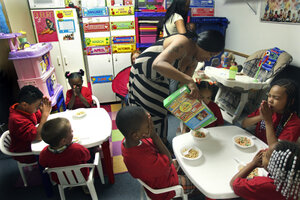 m42/ZUMA Press/Newscom/File
1. Recipe for a Start-up
While food businesses have traditionally gotten started in personal kitchens, most states now require any food sold commercially to be prepared in a kitchen monitored by a health inspector.
That requirement is too costly for many would-be entrepreneurs. People who want to start a food business in Cambridge, Mass., can rent professional kitchen space on an hourly basis from CropCircle, a nonprofit "kitchen incubator" that provides technical assistance and access to equipment like convection ovens and blast freezers.
Starting a food business through CropCircle, or one of the other kitchen incubators that have opened around the country, helps keep costs manageable, and entrepreneurs can quickly scale up production when they're ready.
CropCircle members can take a food-safety class that prepares them for the state certification they'll need to go out on their own. Operations Manager Darnell Adams cites the logistical challenges confronting food entrepreneurs, and says there's room in the market for more kitchen incubators and the help they provide.
Some kitchen incubators focus on a specific population, such as immigrants or organic food producers, but Adams says CropCircle is "here for anyone who has an idea that is viable," which is why a day on the job might have her sampling kimchi, carob peppermint cookies, or baba ghanoush. – Colleen Shaddox
2. Free Computers
Computers are vital for almost any business, but not everyone can afford to buy one. Free Geek in Portland, Ore., can help. Volunteers donate 24 hours of their time to deconstruct and rebuild donated computers in exchange for one of their own.
---