Older Americans a (labor) force for social change
(Read article summary)
Baby boomers discover ways to apply their skills and life experience to purposeful second careers.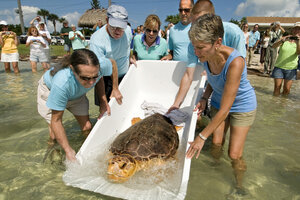 REUTERS/Handout/File
We're a nation that will soon have more older people than young ones, and much of the popular media portrays this as a disaster story that goes something like this: Tens of millions of people, the single biggest group in society and a mighty political force, are about to dominate the scene. Overnight at age 60, they will become the elderly, pass out of the "working-age population," become incompetent and incontinent, bankrupt the health care system, and vote for hefty increases in public spending on their retirement at the expense of everyone else.
We've stretched the average life span from 47 years in 1900 to nearly 80 today. But our imagination about the shape of those longer lives has lagged behind. Until not long ago, the 50s and 60s meant retirement, grandparent-hood, senior discounts, and early-bird specials. Today there is a growing group of what I call "neither-nors." Neither young nor old, neither ready to be retired nor able to afford it.
With big thinking, there is a chance to tap the talents and experience of the "baby boom" generation to solve longstanding social problems, from health care to homelessness, education to the environment. There is a chance to turn an older population into a new workforce for social change.
Some people, like Gary Maxworthy, are leading the way. As an idealistic young man, Mr. Maxworthy wanted to heed JFK's call to service, but he already had a family to support. Instead of joining the Peace Corps, he launched a career in the food-distribution business, where he worked for more than 30 years.
As Maxworthy approached 60, his wife's passing sent him into a period of soul-searching. He thought a lot about his old Peace Corps dream and the prospect of returning to it. In the end, he chose a more manageable domestic option, VISTA, part of the AmeriCorps national service program.
---