Julie Leven brings classical music to homeless shelters
(Read article summary)
Through Shelter Music Boston, Julie Leven brings live music to residents that feeds their souls and makes them feel 'elegant.'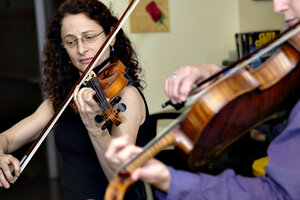 Courtesy of Julie Leven
When Julie Leven and her musician friends prepare to play classical music at the Kitty Dukakis Treatment Center for Women in Boston, they noticed that everyone looks tired.
Discussion and therapy sessions take place right before Ms. Leven and her fellow musicians perform. The sessions can leave the women at the center drained.
But once the music starts, that changes. "It's like watering a flower," she says. "They come to life."
Leven, the founder, executive director, and artistic director of Shelter Music Boston, performs at the Kitty Dukakis Treatment Center for Women and the Shattuck Shelter – both in Boston's Jamaica Plain neighborhood and both part of the organization hopeFound – once a month with two other musicians. They play classical arrangements on the violin and viola in a conference room at the Kitty Dukakis Center and in the common area at the Shattuck Shelter, a homeless shelter for men and women.
Leven is a violinist, a member of the Boston Pops Esplanade Orchestra, and a member of Boston Baroque, the professional ensemble for Boston University's Historical Performance Program. She was inspired to start the nonprofit organization Shelter Music Boston in May 2010 after hearing about a similar program in New York.
---