'Harry Potter' and 'The Hunger Games' fans urged to do good
(Read article summary)
Movies can inspire social action, says Andrew Slack, head of the Harry Potter Alliance. He challenges fans to 'fight injustices in our world the way [Harry Potter] fought injustices in his world.'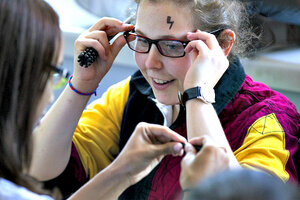 Lucas Jackson/Reuters/File
"The Hunger Games," the new film based on the popular book by Suzanne Collins, has quickly become a blockbuster. Andrew Slack, executive director of the Harry Potter Alliance, a group of fans of another popular book and movie series, is hoping it can also inspire its fans to help change the world.
Mr. Slack, who co-founded the alliance in 2005, is now working on the Imagine Better Project, an effort to help fans "turn the fictions they love into the world they can imagine."
One of the first campaigns asks fans of "The Hunger Games" to carry a pledge sheet to join Oxfam International's campaign to fight hunger when they go to see the film and ask other moviegoers to sign up. The pledge sheet draws parallels between the movie's dystopian world and problems in the real world.
That campaign was challenged by Lionsgate, the movie company distributing the film, but it eventually backed down and agreed to work with fans on the forthcoming movies in the series.
The Harry Potter Alliance has been using fiction to help solve real-world problems since Mr. Slack started posting advocacy messages on fan sites in 2005. He was motivated then by a lack of direction among Harry Potter fans: They were spending hours talking about Harry Potter's character but not acting like him.
"He would fight injustices in our world the way he fought injustices in his world," Mr. Slack says.
---