'Popovers for Pigs' helps green up famous Acadia National Park restaurant
(Read article summary)
'Popovers for Pigs' is just one of the many environmental initiatives undertaken by Jordan Pond House, the only restaurant to operate inside Acadia National Park on the scenic seacoast of Maine.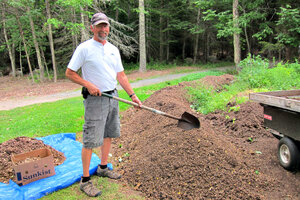 Courtesy of Cathryn J. Prince
At the Jordan Pond House, if a popover doesn't make it from oven to table in 15 minutes, it's toast.
Each season two local pig farmers collect more than 20,000 pounds of uneaten popovers from the famed tea house to use as animal feed.
Known as "Popovers for Pigs" this program is just one example of the many environmental steps undertaken by the only restaurant to operate inside Acadia National Park on Mount Desert Island along the seacoast of Maine.
More than 2,000 people a day dine at the restaurant, whose lawn tables and chairs face Jordan Pond and the Bubble Mountains. Cadillac and Sargent Mountains rise on either side of the pond. The pristine scenery lends an "Alice in Wonderland"-like feel to the restaurant.
But in some ways the restaurant is under siege: More than 2 million people visit Acadia National Park each year (and the park is only a fraction of the size of, say, Yosemite National Park). In addition to the thousands who dine at the restaurant daily, many more avail themselves of the restrooms and water fountains there.
With so many pairs of feet walking through, the restaurant decided to act.
"Pigs do indeed like popovers. They prefer the butter and the jam, but they will eat them all the same," says David Woodside, president of Acadia Corporation, which manages the more than 100-year-old Jordon Pond House. The privately owned and operated restaurant works with the park as a licensed concession.
Today the Jordon Pond House prides itself on its recycling efforts, which are the result of teamwork – from the wait staff who began the recycling efforts to the maintenance crew who pushed for composting.
"It is all really grass roots," says Michael Daley, operations manager of the Jordan Pond House.
Each year the restaurant recycles more than 50,000 lbs. of cardboard, 8,000 lbs. of paper, 2,500 lbs. of plastic, and 2,500 lbs. of metal.
Every morning the wait staff peels lemons to make gallons of lemonade for thirsty hikers, cyclists, and other tourists. Boxes of rinds sit outside the kitchen, waiting to be ground.
---