A 'Source to Sea Cleanup' for New England's longest river
(Read article summary)
On Sept. 29 thousands of volunteers will spread out along the banks of the Connecticut River collecting tons of plastic bottles, cans, food containers, and other trash.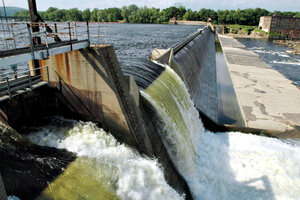 John Nordell/The Christian Science Monitor/File
It's time for New England's longest river to come clean.
The dry summer and low water levels exposed thousands of plastic bottles, cans, and food containers along the 407-mile long Connecticut River. However, after annual "Source to Sea Cleanup" sponsored by the Connecticut River Watershed Council (CRWC), the waters will be running a little cleaner.
On Sept. 29 thousands of volunteers are expected to fan out across the 11,000-square-miles of the Connecticut River watershed.
This year the cleanup has an international flavor. TransCanada Corporation, based in Calgary, Alberta, but operating hydropower plants throughout New England, is a lead sponsor. It's also the first year Source to Sea will be registered under the umbrella of the Ocean Conservancy's International Coastal Cleanup (ICC), considered the largest one-day volunteer effort to haul trash from streams, rivers, and oceans.
This kind of involvement is important because it "gives the cleanup context," says Andrew Fisk, executive director of the CRWC, a nonprofit organization based in Greenfield, Mass.
Volunteers work individually or in groups. Clubs and businesses form groups too. People of all ages and abilities are encouraged to join the effort, on foot or by boat. They will clean the river itself or one of its historic tributaries, Mr. Fisk says.
If people don't want to scoop up Styrofoam themselves, they may donate supplies or sponsor a group, Fisk says.
"We have Brownie troops and volunteer firefighters. We have large groups and small groups, each of them responsible for 200 to 300 yards of river. Smaller groups cover even less ground. So registering with ICC helps people understand they are part of something bigger," Fisk says.
TransCanada donated $10,000 to the cleanup effort because it operates several hydropower projects throughout the northeast. The Connecticut, New England's largest and longest river, starts flowing from Fourth Connecticut Lake in New Hampshire, just 300 yards from the Canadian border. It eventually defines the border between Vermont and New Hampshire, crosses central Massachusetts, and pours into the sea on the Connecticut coast.
"We stepped up our sponsorship this year because we feel the health of the Connecticut River is very important," says Matthew Cole, community relations specialist for TransCanada Hydro Northeast.
---