Alta Gracia factory produces fair-trade clothing
(Read article summary)
For years, college student activists have pressured their schools to make sure clothing with college logos is sweatshop-free. Now, they have another choice: fair-trade clothing manufactured in the Dominican Republic by Alta Gracia.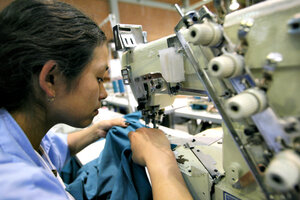 John Vizcaino/Reuters/File
Aracelis "Kuky" Upia, a 39-year-old factory worker in the Dominican Republic, is participating in an experiment that, if successful, could help end sweatshops as a staple of the global economy.
A single mother of four, Upia has been sewing in factories since she was 15. For years she earned less than $50 a week. Some employers simply refused to pay her. At one point she was so deeply in debt, the local market stopped extending her credit.
Today, Upia sews T-shirts for $3.02 an hour, a huge leap in income and nearly three times the country's minimum wage. She has paid off her loans and can shop again at the grocery store. She has purchased a refrigerator, plans to add rooms to her home to rent out for additional income, and has paid for her son Nisael's long-postponed dental work. Her son Yacer is studying accounting at the university.pia was among the first workers hired by Alta Gracia, an apparel company named after the town where she has lived all her life and where the factory is based. Alta Gracia's T-shirts and sweatshirts are sold mainly at colleges and universities in the United States at about the same prices as clothing made by Nike, Russell, and other brands.
Beginning in the mid-1990s, students on American campuses used various forms of protest to pressure universities to adopt "codes of conduct" as a condition of allowing companies the rights to use their names, mascots, and logos. These codes looked good on college websites, but universities had no capacity to implement these standards until human-rights activists formed the Workers Rights Consortium (WRC) in 2000, providing colleges with an independent watchdog group that had contacts across the globe and could monitor factory conditions in response to worker complaints. About 180 universities have now affiliated with the WRC by paying annual dues to help fund its investigations. The WRC is independent of companies in their governance and funding.
---