FarmVille's game players bring clean water to the real world
(Read article summary)
Items purchased on Zynga's popular Facebook games FarmVille and Mafia Wars raise money for Water.org, which provides safe water and sanitation for people in the real world.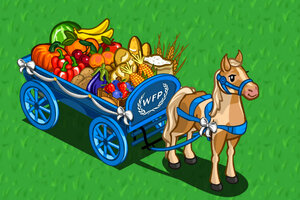 PRNewsFoto/Pizza Hut
Tilling virtual crops from their urban apartments and assembling criminal empires from the comfort of suburban homes, online gamers seem to live in worlds far removed from reality.
Zynga Inc., the provider of some of Facebook's most popular games like FarmVille and Mafia Wars, projects a different picture. This month, the company has partnered with Water.org to raise money for a resource precious to both FarmVille 2 farmers and actual communities all over the world – water.
During the month long campaign, three branded items – sprinklers, water pumps, and jerry cans – are available for purchase within FarmVille 2. Zynga will donate 100 percent of the proceeds to Water.org.
Founded by Gary White and the actor Matt Damon, Water.org provides safe water and sanitation to communities in need. Funds support well-building, and toilet and microfinance initiatives.
This collaboration marks a growing trend in gaming for social impact. Nonprofits welcome the opportunity to raise awareness for their causes within vast player networks. FarmVille 2 has more than 56 million monthly active users, many who play the game several times per day.
"We try to catch them in the place where they're enjoying themselves," said Mike McCamon, chief community officer of Water.org. "It's an interesting place to introduce them to the problem."
---