How to curb invasive species? Eat 'em
(Read article summary)
Karen Monger says there's a more sustainable alternative to culling, pulling, or poisoning invasive plants: Put them on the dinner table.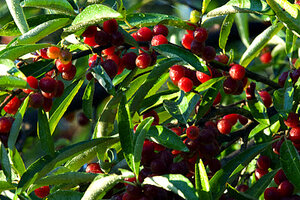 Courtesy of the3foragers.blogspot.com
One gardener's weed is another's essential ingredient.
Karen Monger, a community blogger in Norwich, Conn., wants to change the way New Englanders consider invasive species, whether it's garlic mustard or autumn olives. There's a more sustainable alternative to culling, pulling, or poisoning them, she says.
"Eating the invaders is a favorite theme for me and my family," says Ms. Monger, who lives in Norwich, Conn.
That's right – Monger wants people to eat the weeds. But, and she can't stress this enough, she wants people to understand that foraging for edible invasives is not a lark. And so she has launched the blog the3foragers.blogspot.com.
"There is a truly responsible way to do it," Monger says.
That means, don't plant invasive species. Don't sell them; in fact, Connecticut state law prohibits the sale of invasive species. Above all, Monger says, people need to learn how to identify plants. That's the first, and perhaps most important, rule of foraging, she says.
Her blog chronicles her and her family's search for wild edible plants across the region. Photographs help readers recognize the plants. She also shares recipes that use native and invasive weeds.
A recent post featured wild autumn olive berries. Monger, a former pastry chef, suggests using the bright red, somewhat sour berry in oatmeal or to make jam and fruit leather.
It also makes a wonderful jelly, she says. "They are freakishly healthy for you, but they are really bad for the environment. They alter the soil competition, so I hope people don't plant them on purpose."
---