Copenhagen makes an ambitious push to be carbon neutral by 2025
(Read article summary)
More bicycle lanes, biomass generation, public transit, cooling buildings with seawater – it's all intended to make Copenhagen the world's first carbon-neutral capital by 2025.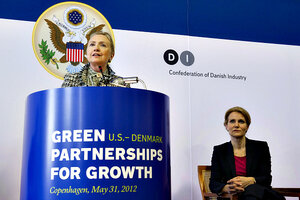 Saul Loeb/Pool/Reuters/File
Among the first sights to greet visitors to Denmark on the descent to Copenhagen's airport is a sweeping arc of wind turbines rising from the harbor. From the airport, passengers can board an automatic Metro line that hustles them to the city center in just 15 minutes, crossing the path of the City Circle Line, a subway project that will place 85 percent of Copenhageners within 650 yards of a Metro station when the line opens in 2018.
Everywhere, visitors are greeted by streams of bicyclists; 36 percent of trips to work or school in the Danish capital are made by bike, and more than 20,000 cyclists enter the city center at peak hours, filling Copenhagen's 249 miles of cycle tracks. Less visible are state-of-the-art facilities where waste heat from power plants is used to keep buildings warm via the world's largest district heating network, or where waters from the city harbor are deployed to cool department stores, office buildings, hotels, and data centers.
These innovations are just a prelude to what is planned in the coming years, all designed to make Copenhagen the world's first carbon-neutral capital by 2025. Acting on a City Council plan approved last August, Copenhagen intends to replace coal with biomass, to add more wind and solar electricity to the grid, to upgrade energy-guzzling buildings, and to lure even more residents onto bikes and public transit.
"Copenhageners like the ambition, they like being part of the idea of going green for the whole city," Copenhagen Lord Mayor Frank Jensen said in an interview with Yale Environment 360. "Our focus as a city, as citizens, is all about livability." The mayor said that city residents are putting their own money into the low-carbon drive, noting that half of the turbines in the harbor wind farm, known as Middelgrunden, were funded by individual Copenhagen shareholders.
---