How mussels could help clean polluted waters
(Read article summary)
Along the shores of New York Harbor, scientists are investigating whether mussels, a hardy bivalve, might be grown in urban areas as a way of cleaning coastal waters of sewage, fertilizers, and other pollutants.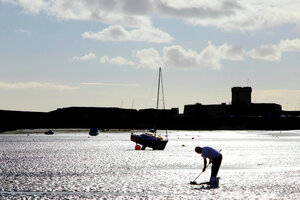 Stefan Wermuth/Reuters/File
Not long ago, a boatful of shellfish researchers and I cruised downstream toward a most unlikely structure bobbing at the mouth of one of the most urban bodies of water on the planet.
The 20-foot by 25-foot form ahead of us was an experimental raft that scientists from the US National Oceanic and Atmospheric Administration (NOAA) had placed at the mouth of New York City's Bronx River last spring. Hanging beneath it were long, sock-like tendrils that had been seeded with Geukensia demissa, commonly known as ribbed mussels. The point of the two-year experiment was to see whether mussels would survive or even thrive given the industrial and organic effluent that flows from the Bronx into the greater New York Harbor. If the mussels did in fact prosper in this environment, it could have implications for how we might help clean up coastal waters in various parts of the world.
The idea of using bivalves like mussels, oysters, and clams to purify waterways has been on the minds of conservationists and scientists for decades. Perhaps because of a romantic nostalgia for the lost, billion-strong oyster colonies that once girded the coasts of the eastern US, millions of dollars have been put into oyster restoration projects, to mixed effect. But as mussel aquaculture grows in the US, Canada, and elsewhere, businessmen and scientists are increasingly considering the mussel, both as a way to produce a commercial product and to explore their potential as water filterers.
---