An American mom helps build a school in Uganda
(Read article summary)
'Give it up for Gulu' began as a simple fundraiser by a stay-at-home mom but became a long-term passionate project aimed at building a pre-school in Uganda.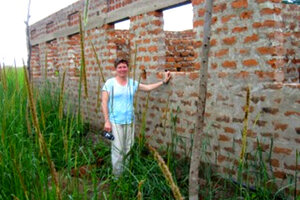 Courtesy of Mary Gispert
"We just met at church."
She didn't know it at the time, but when Mary Gispert met Father James Okello of the Archdiocese of Gulu, Uganda, during his visit to her home parish in 2012, her life was going to change.
While she had met and spoken with several missionary priests who had visited her parish in the past, something about Father Okello's message resonated with her.
"The way he presented the story just triggered a soft spot in my heart for the people there," Ms. Gispert says.
Father Okello shared the story of his parishioners, the people of Gulu, Uganda – who are slowly recovering from a more than 20-year war with the Lord's Resistance Army. In spite of the overwhelming issues facing his congregation, Father Okello was determined to achieve his goal – the building of a new pre-school for children in Gulu.
The stay-at-home mother soon wound up adopting that as her goal as well.
"Give it up for Gulu" began as a simple fundraiser she launched with the Roman Catholic school attached to her home parish, a project during Lent that encouraged students to donate the change they might otherwise spend on snacks or other things to the cause of building a school for their counterparts in Uganda.
The effort raised roughly $2,500, and it got Gispert thinking about doing more for the cause.
"That was just awesome," she says. "It gave that little kick start. I was just really drawn to figure out ways to do this."
She continued her efforts with a restaurant fundraiser, in which a portion of the proceeds from each check went to the cause.
And through collaboration with others, a "buy a brick" fundraiser began, through which folks seeking to support the building of the school could make a donation to essentially sponsor one of the bricks that would go into the structure – an effort that raised some $11,000 in donations.
Throughout more than a year of fundraising efforts, Gispert communicated regularly with Father Okello via email, keeping herself apprised of the building process and eventually accepting his invitation to visit the site.
Her two-week trip to Gulu this past May allowed her to witness the initial stages of building what is to be named St. Catherine's Nursery School – honoring the namesake of Gispert's home parish in Delaware.
---