Suicide bombing revives Israeli push to finish its wall
The Palestinian attack on Monday has prompted many to say the wall should extend to the border between Israel and Egypt.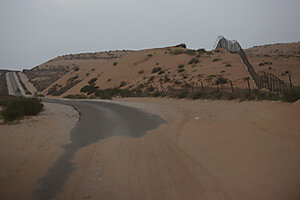 Uriel Sinai/Getty Images/File
In the aftermath of the first Palestinian suicide bombing in more than a year, many Israelis have returned to an old conclusion: build a barrier.
Some politicians said that the answer to Monday's attack on the southern town of Dimona was to resurrect an existing, but never-implemented, plan to build some combination of a wall and fence between Egypt and Israel. The barrier would be similar to the West Bank wall that Israel started erecting more than six years ago, at a time when there was an almost nonstop cycle of violence between Israelis and Palestinians.
That separation barrier, which Israelis call a fence and Palestinians call a wall (it's actually a combination of both and a collection of watchtowers, gates, cameras, surveillance roads, and checkpoints), has never been completed. Amid questions as to whether it was really necessary and economically feasible to complete the barrier, the Defense Ministry told the 10 contractors building it to stop last November for lack of funds.
Following Monday's bombing, however, which the Israeli security establishment said it had more or less expected as a result of last month's break in the border wall separating Gaza from Egypt, senior Israeli leaders promised that they would see to the resumption of plans to build a high-security barrier along the 137-mile border with Israel and Egypt. Such a barrier could cost between $560 million and 835 million.
Defense Minister Ehud Barak, who is arguing anew for the construction of the Egypt barrier, said that the most realistic target date for completion is 2010. However, National Infrastructure Minister Benjamin Ben-Eliezer said Tuesday that Israel should race to complete it by the end of the year.
---