Ahmadinejad's Iraq visit bolsters Iran's influence
President Mahmoud Ahmadinejad met with key Iraqi leaders and offered the country a $1 billion loan as he began a two-day visit Sunday.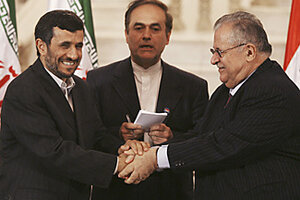 Hadi Mizban/AP
Iranian President Mahmoud Ahmadinejad arrived in Baghdad Sunday on a landmark visit described by both friend and foe as a crowning moment for Tehran's growing power here and its deepening influence across the Middle East.
American and Iraqi officials say they hope Mr. Ahmadinejad's arrival will bring a new commitment from Iran to stop its suspected support of Iraqi militants. But many analysts say that's unlikely, because Iran and the US remain at loggerheads on Iraq and many other crucial issues.
"The Iranian intent and vision in Iraq is at cross-purposes with that of the US as long as American troops are in Iraq. The two projects are battling each other in Iraq," says Saad al-Hadithi, an academic at Baghdad University.
But Iraqi leaders of all stripes, even those who previously lamented Iran's sway in Iraq, welcomed the state visit, the first from an Iranian president since the 1979 Islamic Revolution. Iraq's Kurds and Shiites – both of whom have historic ties with Tehran – may be looking to bolster relations with Iran as the future of US involvement here seems increasingly tied to the upcoming presidential election.
---