Rice meets harder lines in push for Israeli-Palestinian peace
In the West Bank Tuesday, Secretary Rice urged Israelis and Palestinians to return to the negotiating table.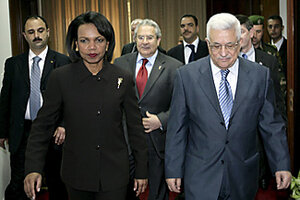 Thaer Ganaim/Reuters
Condoleezza Rice arrived here Tuesday for her 16th visit since becoming America's chief diplomat, this time stressing that the United States has not given up on an Israeli-Palestinian peace deal by year's end.
But since Israeli and Palestinian leaders agreed last November to start talks that could lead to a two-state solution, Ms. Rice's job has grown harder by the day. Both sides are heading toward harder-line positions as violence has spiraled recently in Gaza and southern Israel. And so, Israeli Prime Minister Ehud Olmert and Palestinian Authority President Mahmoud Abbas face domestic pressure to guard their people and move slowly toward any agreement.
In Ramallah, after meeting Mr. Abbas, Rice expressed some frustration over the new developments hampering the US peace push. "We have in fact launched a framework, that if the obligations are actually met, it will lead to a point where finally, finally the parties can reach a resolution to their conflict." Asked what it would take to bring the Palestinians back to the negotiating table, Abbas said there would have to be palpable changes for Palestinians.
"If we have implementation of the road map and a change in facts on the ground, then the negotiations can proceed," he said. "In the midst of aggression, where 120 Palestinians have passed away, including 20 children, the negotiations were suspended as a realistic measure and response to this hostile environment. I call upon on all sides to engage in a cease-fire in preparation for a solid peace process that will lead to a state by the end of 2008."
---