Iran election: hard-liners hold on, despite high inflation
Conservatives win 70 percent of parliament. But reformers gain, too.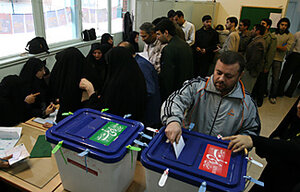 Hasan Sarbakhshian/AP
From tomatoes to rent, prices in Iran have soared. Iran's nuclear defiance has brought four sets of UN and American sanctions. But that didn't stop Ashraf Banoo Rahimikia from casting her vote for Iran's hard-line president, Mahmoud Ahmadinejad.
And the war widow was not alone, according to initial results of parliamentary elections last Friday. Conservative factions were expected to win a 70 percent majority in the 290-seat body – close to the same majority they held prior to the elections.
Even with grumbling over the 19 percent inflation rate and the disqualification of many opponents, the results allowed Iran's conservatives to claim a popular mandate.
"We like Ahmadinejad [despite] all the problems. Prices have gone up, but I will vote for him again. He understands people," says Mrs. Rahimikia, who has raised two children alone since her husband was "martyred" in the Iran-Iraq war of the 1980s. "Though people are against him, he is one of us," adds Rihimikia. "We don't have high expectations from him, but he is fighting and that is good enough for us."
Liberal reformists, who once dominated Iran's political scene from the late 1990s to 2004, also claimed progress on a comeback.
Prior to the election, reformers had 40 seats in parliament and appeared set to gain at least 10 more in Friday's vote and second round runoffs in coming weeks. Reformists were hit hardest by the rejection of 1,700 candidates by government authorities before the vote.
"We announce with honor that we gained victory in an unequal election," said Abdollah Nasseri, spokesman for the main reformist coalition. "We managed to disturb the game of our opponents."
---