Sadr City blast reveals new dangers for U.S.
A Tuesday bomb attack at a municipal council building within a fortified section of Baghdad's Shiite enclave killed at least four Americans and six Iraqis.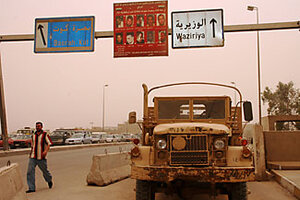 Sam Dagher
The brazen Tuesday morning bombing occurred in an Iraqi municipal council building within the section of Moqtada al-Sadr's Shiite stronghold of Sadr City that is sealed off and guarded by American and Iraqi forces.
While the US military has so far said little about how the explosives were planted inside the building, the few details that have emerged reveal that the strike, which killed at least four Americans and six Iraqis, was well coordinated and timed. It struck about 9:30 a.m. just as local officials who are cooperating with the US gathered to elect a new council chairman. The previous one had refused to cooperate with Americans.
The blast reveals the new dangers – and extreme resistance – that Americans face as they move forward with a campaign to further marginalize and weaken Mr. Sadr's movement.
What's more, it brings into the forefront, yet again, serious doubts about the capabilities and even the loyalties of Iraqi forces. The Iraqi Army had prime responsibility for securing the building located behind a stretch of high walls and barbed wires. No civilian vehicles are allowed into this stretch and everyone coming in is supposed to be searched by the Iraqis.
This area of Sadr City was walled-off starting in mid-April while US forces were battling Sadr's Mahdi Army militia in a fight that ended almost a month later in a truce. The cease-fire came about after more than 1,000 people were killed. Now, five US-Iraqi security garrisons protect the sealed-off enclave of the poor Shiite district.
The US military said that it caught the bombing suspect fleeing the scene and that he tested positive for explosive residue. It blamed so-called Special Groups (SGs), which it says are splinter groups of the Mahdi Army backed by Iran.
---