Iraqi Shiite Party rises as Sadr falls
The Islamic Supreme Council of Iraq aims to capitalize on the disarray within Moqtada al-Sadr's movement ahead of provincial elections planned for October.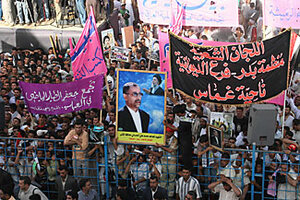 Sam Dagher
At a teeming rally in this holy city last Thursday, thousands of Iraqi Shiites made an election pledge.
"We are at your beck and call, Hakim," they shouted in unison to Abdul-Aziz al-Hakim, leader of the Islamic Supreme Council of Iraq (ISCI), arguably now the country's most influential and best organized Shiite religious political party.
Mr. Hakim told the crowds stuffed inside a soccer stadium: "We call upon you to take part in the upcoming provincial council elections.... Choose competent and trustworthy candidates ... and beware of the return of Saddamists in disguise."
The rally to commemorate the fifth anniversary of the "martyrdom" of ISCI founder Muhammad Baqer al-Hakim, killed in a Najaf car bombing, effectively kicked off campaigning for the party ahead of provincial elections that are supposed to take place in October.
On Monday, the Iraqi speaker of parliament, Mahmoud Mashadani, announced that the electoral law will be put to a vote on July 15. "Time is running out.... This is the last chance we have" if we want to hold local elections on time, he said. If the law is approved, it will pave the way for provincial elections in October.
If the enthusiasm of the audience on Thursday was any indication, ISCI and its affiliates are poised to do well at the polls, a development that some fear would exacerbate a bitter intra-Shiite struggle for power between ISCI and its allies and the movement of Shiite cleric Moqtada al-Sadr.
---