Basra gains revive talk of British exit
The British role in the southern Iraqi oil city, once lorded over by Mahdi Army militiamen and criminal gangs, may end in early 2009 if new security gains take hold.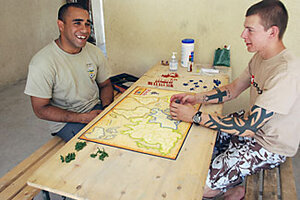 Tom A. Peter
On his first tour here in 2006, British Army Lance Bombardier Frank Shaw says that three of his unit's interpreters were kidnapped, a local Iraqi shopkeeper on his base helped insurgents direct mortar attacks on British barracks, and even the Iraqi police used to shoot at his unit occasionally.
Two years later, on his second tour, Lance Bombardier Shaw says he's returned to a changed Basra, the Shiite oil city and capital of Basra Province. In fact, the transitions here could convince British forces to end their role in the province altogether next year.
"The city has calmed down. I've been here for four months and I've only heard two rounds fired in the city the whole time," he says.
This spring, Iraqi Prime Minister Nouri al-Maliki ordered a massive offensive to reclaim Basra from the control of Moqtada al-Sadr's Mahdi Army, other Shiite militias, and criminal gangs that thrived on the black market trade that had grown around the south's petroleum industry.
At first, Mr. Maliki's high-stakes assault on the Mahdi Army looked like it was a failure as soon as it started. His men were retreating and handing over weapons to Shiite clerics loyal to Mr. Sadr. Hundreds of militants and civilians were dying.
But Maliki pressed on, with the assistance of US military firepower and strategic assistance. In the end, Sadr backed down and the assault proved to be a turning point for the city and the province.
But the British were largely left out of the fight. Recent reports in the British press have pointed to a special deal with the Mahdi Army that kept them from the fight this spring, opening the door for criminals and militias to spread their influence in the city.
---