In Lebanon, pragmatism tempers jihadist aims
In a move to avoid a second deadly battle in a Palestinian refugee camp, some groups have taken a rare step away from Islamist militancy.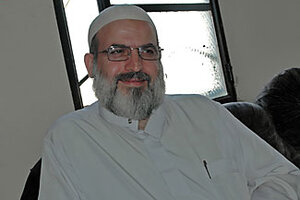 Nicholas Blanford
EIN eLHILWEH PALESTINIAN CAMP, Lebanon
Nearly 17 armed factions and 70,000 people are packed into this teeming Palestinian slum.
Militants patrol narrow passageways that connect cement and cinder-block dwellings overfilled with poor families. For months now they have coped with a violent feud between rival groups that has threatened to spill into an all-out battle similar to last year's conflict in Nahr al-Bared refugee camp in northern Lebanon.
But the groups – secular, leftist, Islamist, nationalist, jihadist – are attempting to forge a rare pact to bring about a much-needed reprieve to tensions in Ein el-Hilweh, which has caused even the more radical, Al Qaeda-inspired elements to publicly moderate their views. The pact could see the formation of a joint security force to police the camp.
The restraint comes as Lebanon and Syria are paying closer attention to the potential threat posed by jihadists after recent bomb attacks in both countries. And groups such as Esbat al-Ansar, which the US considers a terrorist organization, are mindful of the outcome of the fight in Nahr al-Bared when the Lebanese Army took on the Al Qaeda-inspired militants of Fatah al-Islam. The camp was flattened, more than 200 militants were killed, and 30,000 residents were left homeless.
"After Nahr al-Bared, it seems that the same story is coming to Ein el-Hilweh," says Sheikh Ali al-Yussef, an influential Palestinian cleric based in the south Lebanon town of Sidon who helped mediate between the Lebanese Army and Fatah al-Islam during last year's conflict. "It is the decision of all Islamic forces in Ein el-Hilweh to avoid another Nahr al-Bared."
---