France's tireless Sarkozy strides into Middle East
The French president starts a Mideast tour Monday. Can he broker an end to another major crisis?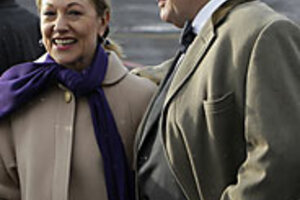 Petr David Josek/AP
French President Nicolas Sarkozy is no longer head of the European Union. But that has not stopped the peripatetic dynamo from a ceaseless search for a Middle East cease-fire.
Mr. Sarkozy goes to the region Monday, only a day after EU officials, sent by the Czech EU president, arrive in the midst of an Israeli ground assault on Gaza.
The blue light on the Eiffel Tower symbolizing the rotating EU presidency was switched off Dec. 31. But the light is not entirely out of Sarkozy's eye. With American diplomacy between administrations, and the EU mission divided on Gaza, the world's self-appointed "crisis leader" visits Egypt, the West Bank, Tel Aviv, Jordan, and Syria, where he will meet with President Bashar al-Assad, a prominent interlocutor with Hamas.
---