As US withdraws, will Al Qaeda in Iraq find new openings?
The Sunni insurgent group may strike back, but Iraq experts say it's unlikely they will ever achieve the level of power they once wielded.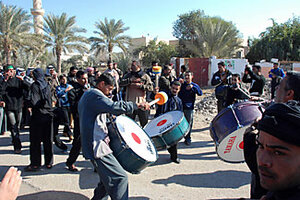 Tom A. Peter
Three months before Amin al-Qaraghouli walked into a meeting of tribal sheikhs here and blew himself up, killing 23 people, he was in jail for planting roadside bombs. He was freed after local elders backed his claim that he had abandoned his violent past.
The Jan. 3 attack in this town of dirt roads and mud-brick buildings 25 miles southwest of Baghdad was the worst suicide bombing in months and a deadly reminder that Al Qaeda in Iraq (AQI) remains within striking distance.
With American forces largely gone from Yusufiyah and pulling out of cities across the country, security is being left to the Iraqi Army, police, and their paramilitary allies in the Sons of Iraq (SOI). But experts and many Iraqis worry that in the absence of US soldiers AQI may attempt to resurface and once again carry out mass-casualty attacks.
"There are still some tribes who are trying to hide Al Qaeda in Iraq members," says Abu Hanian al-Qaraghouli, a local SOI deputy.
But while the apparent revenge attack on the Qaraghouli tribe, carried out by their own members for the group's cooperation with the Americans in the fight against Sunni insurgents, has certainly rattled Yusufiyah, many residents remain optimistic that the situation will continue to improve and that AQI will not gain the same foothold it once had.
---