Gaza fighting pauses, but is the war over?
Hamas and Israel have not agreed to terms of a mutual cease-fire agreement, worrying many that the war will soon start up again.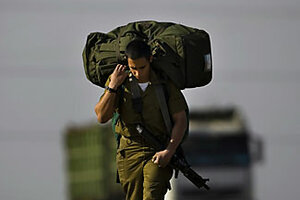 Bernat Armangue/AP
Hamas militants and Israeli soldiers held their fire Monday after agreeing to halt fighting after three weeks of war. Israeli troops began pulling out as Gazans assessed damages, cared for the wounded, and buried some of the estimated 1,300 dead.
But there is no mutual cease-fire agreement between Israel and Hamas, meaning this could merely be a pause in the war. Both sides have warned that they could resume fighting at any time, keeping the pressure on the international mediators, namely Egyptians, to come up with a deal Hamas and Israel will accept.
"The political results of this war are much more important than the military results, and these results will be tested according to the will and ability of the Egyptians to fight against the smuggling of arms into Gaza," says Professor Moshe Lissak, an expert on the Israeli military at the Hebrew University of Jerusalem.
In a press conference, the military arm of Hamas vowed that it would rearm, despite a series of pledges by Egypt, European powers, and the US to stop the Islamist organization, which rejects any recognition of Israel, from restocking its weapons supply.
"Manufacturing holy weapons is our mission and we know how to acquire weapons," Abu Obaida, a spokesman for Hamas's armed wing, told reporters.
---